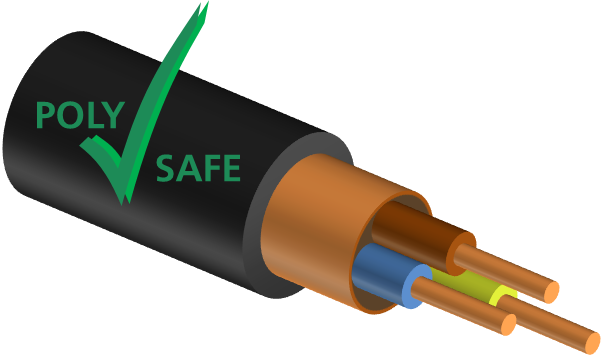 PolySafe is the short title of the project "Nondestructive characterization and monitoring of ageing phenomena in cable insulation in the context of reactor safety".
With regard to a lifetime extension of European nuclear power plants (NPPs), it is also important for Germany to be able to assess the condition of nuclear facilities in neighboring countries and to estimate the material behavior. This applies not only to components such as reactor pressure vessels and pipelines, but also to the approx. 25,000 cables with a total length of approx. 1,500 km that are installed in a typical NPP – simple lighting installation as well as motor, sensor and data cables, many of which are essential for safe operation. Depending on their location, in normal operation the cables are exposed to loads such as increased temperature, radiation, pressure or vibrations. In malfunction and accident scenarios, the nominal loads are situationally thoroughly outrun – but nevertheless, reliable functioning is ever required despite possibly increased loads. Due to the operating conditions, the ageing behavior of the cable insulation is crucial. This concerns both the outer jacket directly exposed to the ambient atmosphere and the insulation of the individual cores. Since a destructive inspection during operation is not possible, nondestructive methods to determine the ageing condition of safety-relevant NPP cables are mandatory.
The overall objective of the BMWi-funded PolySafe project is to develop a nondestructive method for characterizing and monitoring the ageing condition of insulation materials. The project deliberately addresses insulation materials (CSPE, EPR) which have been used in cables of older plants and will soon exceed the limits of their designed lifetime.
Within the project, ultrasonic and terahertz methods are used to gain an understanding of the impact of age-related material changes on the acousto-elastic and dielectric properties. According to the results of these investigations, an approach for the nondestructive characterization of age-related material changes will be identified, developed for laboratory use and validated on artificially aged cables.

The PolySafe project is carried out together with the Materialprüfungsanstalt (MPA) Stuttgart.